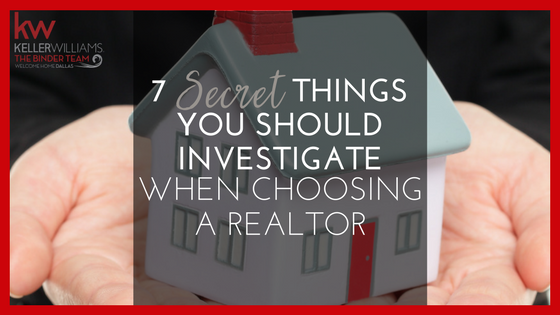 EVERY SELLER SHOULD SEE BEYOND THE FLUFF!
SEVEN SECRET THINGS YOU SHOULD INVESTIGATE WHEN CHOOSING A REALTOR
If you've ever had a presentation, either at work, on vacation or even a listing presentation in the past you may have experienced the WOW in all the fluff presented to you? The fanciness of all the things the presenter says they will do for you and all the fancy ways they can do it. You get wrapped up in it and cannot resist! Of all the people in the world who do presentations, Realtors are the best at fluffing up a presentation. They will promise you all the things they can do with fancy videos, fancy glossy photos, fancy words but how do you know if they are really an excellent Realtor who will take care of you? What are the 7 secret things you should investigate before employing a Realtor to list your home? Put aside the fancy fluff and look at the basics. After all, if a Realtor is excellent, they may not have a lot of fluff but will do the basics really, really well.
1) MLS ENTRY DETAIL
Look at other listings by an agent you are considering. Did they make seller's disclosures, survey and amenity lists readily available to the average person? Did the listing contain as much information as possible including average utility bills, HOA common features and what they include? When you look at the listing are you left with more questions than answers? Agents can put out creative and fancy stuff on their listings all day long like drone photography, videos, glossy photos and booklets because they might be "creative" and love to be fancy. But.....if they are not detail oriented, they will miss important details about the house that may be needed and important to overcome an objection or avoid issues that can come up or may turn away a buyer. Listing on the MLS will get exposure, but lack of detail or leaving questions unanswered will not necessarily reel them in. Missing details = lazy, average Realtors.
2) MLS PHOTOS
Photos must be crisp, clear, professional and highlight all the best features. They need to be up against a blue sky and draw buyers in. This is the #1 way to get buyers into a house that is listed on the MLS. If a Realtor lists a house before entering professional photos or any photos, they will lose a lot of momentum. If the listing pops into a buyer's email, and they click on it a few seconds after listing, no photo = no interest. That buyer may never see this listing again. The biggest mistake a Realtor can make is not having photos in the MLS at the moment they press the active button. Such a simple thing, but you would be shocked on how many Realtors do not pay attention to this one detail. Ask about how your listing gets entered into the MLS and at what point the photos are entered, after the listing goes live, or before? If they hesitate on this question and don't remember, it may be a clue.
3) MAKING A SELLER READY FOR SHOWING
Once the buyer gets there to view your house it must be perfect. It must look like a model home with no deferred maintenance. One tiny little thing will morph a typical buyer into a scrutinizing buyer. If, for example, the baseboards and the intake vents are dirty, then an immediate question goes into the buyer's head about the rest of the house and they begin to look in the cabinets for dripping water, look for cracks or covered up issues. Their regular eyes become magnifying eyes! If it smells good and looks good, overall, upon walk in and drive up, you're good to go. If a Realtor does not get this point across to a seller and help them with it, they are not a good Realtor. Sometimes, if a they are a really good Realtor, it may come across as being tough on you, but it is for your own good!
4) COMMUNICATION
Lack of communication is the #1 complaint sellers have about using a Realtor. One common problem from the get go is when a Realtor tries to tell the seller what they want to hear to get the listing, not what is accurate. This may happen in regard to pricing or getting the home prepared to list. Also, one big complaint for sellers: They put the sign in the yard and you never hear from them again! Sellers are constantly worried about what is happening with their listing. There is nothing like trying to sleep when you don't get a same day answer about a question, concern or offer they heard about that day. The Realtor should be well equipped to speak to the you in your mode of communication, whatever it is. A good test of communication can happen at first contact. The first contact with a Realtor can indicate problems long before you meet, and can help you decide if communication will be an issue before you make a mistake hiring them. It's not that difficult to communicate, after all, and certainly not too much to ask of your Realtor.
5) INTERMEDIARY WITHOUT APPOINTMENTS
Here in Texas the law allows for a listing agent to also work with a buyer on the properties they list, and don't Realtors love this? After all, they get the full commission on the listing for both the buyer and seller side. In most cases the standard is 6%! It is called Intermediary without appointments. But, did you know that when this happens, the Realtor you employed to help you to begin with, is required by law to become a neutral party, who can no longer direct you or the buyer in the transaction? Wait a minute.....you went to great length to find an agent, including following the 7 secret things you should investigate written in this blog. Why would you want your listing agent to become neutral, not give you any more advice, and collect all the commission you are paying out for their advice? The secret question you ask them is "What happens when a buyer calls you about my house?" Their explanation will be telling you if they commonly practice Intermediary without appointments. There is also something called Intermediary with Appointments. This is different. This is when a Broker appoints another agent in the same Brokerage to represent the buyer. This type of intermediary specifies one specific person to represent the buyer while you still have your agent represent, guide and direct you and the listing commission is split between the two Realtors.
6) BUYERS AGENT COMMISSION
A new trend is on the horizon where discount brokerages are offering discount listing commission by simply placing their listing on the MLS and doing nothing else. Seller pays a flat fee to the Realtor up front or signs a discounted listing agreement, writes a description about their home, takes photos and sends them in. But, the Realtor doesn't tell the seller that they are discounting the listing to the buyer's agent as well. BAC stands for Buyer's Agent Commission. Discounting the BAC is a way to capture more dollars by the listing agent, whether it be a discount or flat fee listing, but, all the while, not letting the seller know, because it is in the small print. The standard commission for buyer's agents is 3% and, while that figure is not a fixed figure, it is standard in the industry. There are lot of agents out there who will pass over a showing request for a discounted BAC on a listing simply because they cannot afford to get less than 3%. After all, 1% goes to their expenses, 1% to their Broker and they end up netting 1%. They are already virtually working for 1% net, and to get less than that is a travesty, because in the scheme of things the buyer's agent is usually the Realtor who does all the work driving the buyer to view homes, using their money for gas, tolls and working ahead of getting paid, sometimes for months, while the fees they pay to do business rack up! The discount listing agent, in the meantime, has done nothing but sell the listing to the seller and take the seller's money, keeping most of it themselves. This happens with sale listings and lease listings. If a seller ever wonders why they are getting no showings, they should find out what is posted for BAC in the MLS listing. It's smoke and mirrors, it's tricky and wrong.
7) PRICING
Your Realtor should have solid, undisputed, factual information for you when directing you in setting a list price on your home. There are reasons why you cannot overprice your house that can actually cause you to ultimately get less than you should, when it is all said and done. An excellent Realtor will not bring you a 1 dimensional comparative analysis on your home to help you decide how to price. They will bring multi-faceted reports looking at different angles of active, pending and closed prices in your neighborhood as well as trends in the neighborhood. If you don't have a good enough feel for pricing or are not comfortable with the outcome of the Realtor's recommendation, a great Realtor will take you on a tour of active listings in your area to compare your house to others, that will compete with yours, so you will have a perspective to pricing correctly. Pricing irresponsibly can cause you to have to come down on the price in the end .....if, for some reason, it does not appraise. Let's be real. The Appraiser has access to the same exact listings as your Realtor, so it is the job of your Realtor to help you price your house responsibly. In a heavy seller's market this can actually cause you to receive higher offers than asking price, in which case, your buyer will need to pony up the difference between the contract price and the appraisal price to make that loan go through. Your Realtor helped you price it correctly to begin with, therefore, you are only responsible for the appraisal to meet your listing price. The question to ask your Realtor is "Do you think pricing this high is going to cause me harm in any way?"